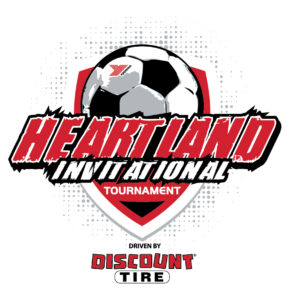 Discount Tire Celebrates Second Year in Partnership with the Heartland Soccer Association as sponsors of the Heartland Invitational Tournament
Overland Park, KS (September 24, 2020) – Heartland Soccer Association, a nonprofit organization, is excited to announce that Discount Tire the Official Tire Supplier of Heartland Soccer Association has come on-board as the title sponsor of the Heartland Invitational Tournament Driven by Discount Tire. Heartland Soccer Association is the region's largest youth soccer league with 21,000 players ranging from ages 9 – 19 participating each season for league play. Heartland also hosts multiple tournaments each year including the Kansas City Champions Cup, which is in its 13th year and has been established as a top spring event that attracts 475-plus teams from throughout the Midwest. The Heartland Invitational Tournament by Discount Tire will be held November 6-8th and 13-15th, 2020 at the SCHEELS Overland Park Soccer Complex and the Garmin Olathe Soccer Complex and is set to attract over 750 teams between the two weekends of play.
This far-reaching partnership with Discount Tire is part of an ongoing commitment to elevate youth soccer as a vehicle for developing well-rounded children both on-and-off the field. "When it comes to buying new tires, Discount Tire is an undisputed leader and we are proud to have them as our partner," explained Shane Hackett, Heartland Soccer Executive Director.
"We look forward to celebrating a safe return to play with Heartland Soccer in 2020," said Bob Henderson, Discount Tire Vice President – Heartland Region. "With their core values of sportsmanship, integrity, discipline, respect, leadership and excellence, it made perfect sense to support their efforts through the newly rebranded Heartland Invitational Tournament Driven by Discount Tire."
As part of the partnership, Discount Tire will deliver unique programming and engagement to the Heartland Soccer Association teams, attendees onsite at the Heartland Invitational Tournament and in the local community.
About Discount Tire
Discount Tire, based in Scottsdale, Ariz., is the world's largest independent tire and wheel retailer. Founded in 1960 by Bruce Halle, the company does business under the trade name Discount Tire in most of the U.S., America's Tire in parts of California, and as Discount Tire Direct in markets outside the reach of retail stores. The company currently serves customers as their trusted neighborhood tire retailer at more than 1,000 stores in 35 states across the country. Discount Tire is heavily involved in motorsports, serving as a primary sponsor of the No. 2 Ford Mustang driven by Brad Keselowski in the Monster Energy NASCAR Cup Series, as well as the No. 22 Ford Mustang driven by Austin Cindric in the NASCAR XFINITY Series. Discount Tire is also the official wheel and tire retailer of Monster Energy AMA Supercross. For more information, visit discounttire.com/about-us/motorsports or like Discount Tire on Facebook at http://www.facebook.com/discounttire.
About Heartland Soccer Association
Heartland Soccer Association is the region's largest youth soccer league with approximately 1,500 league teams, 3,000 tournament teams, 72,000 players, 4,000 coaches and 2,000 referees participating annually. Heartland Soccer Association was formed in 1977 as the Johnson County Soccer League and has grown from an initial 600 players to its current size. Today Heartland Soccer Association is a nonprofit and educational youth soccer association. Although the base for Heartland Soccer is still in Johnson County, it now draws teams to play in the league from throughout the metro area. The Heartland tournaments draw teams from as many as a dozen states every year. For more information, visit heartlandsoccer.net.
Heartland Soccer has several partnership opportunities including tournament title sponsorship and field naming rights at the new world-class Garmin Olathe Soccer Complex. Heartland partners with like-minded businesses who understand that investing in young people today creates a better community for all in the future. Our partners are important team members in creating an increasingly growing soccer family in our community. Sponsorship will provide businesses with increased brand visibility while making a direct impact on developing Kansas City's youth through soccer. For more information on sponsorship, please contact Bridgette Samuelson, Director of Partnership Development and Operations at bridgette@heartlandsoccer.net.