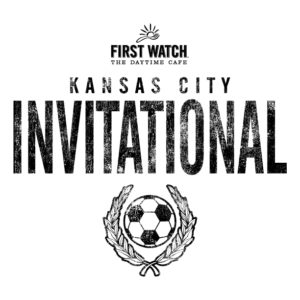 Heartland Soccer Association, a non-profit organization, is excited to announce the continuation of their partnership with First Watch as the title sponsor of the Kansas City Invitational. The sold-out Kansas City Invitational Sponsored by First Watch is the final tournament of the Heartland Soccer Spring Tournament Series. The tournament will be held May 28-30, 2021 at the world-class SCHEELS Overland Park Soccer Complex and the GARMIN Olathe Soccer Complex and is set to host over 300 teams.
With teams traveling in from all over the KC metropolitan area and various states, the economic impact is estimated to be $5.3 million over the weekend (event estimations provided by Visit KC).
This far-reaching partnership with First Watch is part of an ongoing commitment to elevate youth soccer as a vehicle for developing well-rounded children both on-and-off the field. "We're excited to continue our partnership with First Watch and hope to have them as part of the Heartland Soccer family for years to come. Their partnership is vital to our long-term goal of delivering a unique soccer experience to all of our members," explained Shane Hackett, Heartland Soccer executive director.
"At First Watch it is important to us to be a part of the communities in which we live and work. We're thrilled to support the Heartland Soccer organization along with the incredible young athletes participating in the Kansas City Invitational," said Lauren Fohlen, regional marketing manager, First Watch Restaurants. "First Watch has called Kansas City home for over 30 years now, so we jump at the opportunity to join festivities in the area, especially when that includes supporting youth athletics."
About First Watch
First Watch is a high-growth daytime restaurant concept serving made-to-order breakfast, brunch and lunch using fresh ingredients. A recipient of more than 300 local "Best Breakfast" and "Best Brunch" accolades, First Watch offers traditional favorites, such as pancakes, omelets, sandwiches and salads, alongside specialty items like Quinoa Power Bowls, Avocado Toast and the Chickichanga. First Watch was recognized as Nation's Restaurant News' top Consumer Pick in the breakfast category as well as the coffee category for its Project Sunrise coffee program in 2019. It was also named one of TripAdvisor's Best Restaurant Chains for 2019 and one of Business Intelligence Group's Best Places to Work in 2018. There are more than 400 First Watch restaurants in 29 states, and the restaurant concept is majority owned by Advent International, one of the world's largest private-equity firms. For more information, visit firstwatch.com.
About Heartland Soccer Association
Heartland Soccer Association is a non-profit 501(c)(3) organization operates to support the development of youth soccer players with league and tournament play in Kansas City. Our operations are supported through league fees, sponsorships and donations by companies and individuals.
Heartland Soccer is the largest youth soccer league and tournament host in the United States with more than 4,000 teams and 70,000 youth players participating in league and tournaments.   Heartland Soccer Association was formed in 1977 and continues to be a leader in youth soccer with operations at four world class soccer complexes:  SCHEELS Overland Park Soccer Complex, GARMIN Olathe Soccer Complex, Swope Soccer Village and Compass Minerals Sporting Fields.  For more information, visit www.HeartlandSoccer.net
Heartland Soccer has opportunities for league and tournament partnership and sponsorship.  Heartland partners with like-minded businesses who understand that investing in young people today creates a better community for all in the future. Partners are important team members in creating an increasingly growing soccer family in our community. Sponsorship provides businesses with increased brand visibility while making a direct impact on developing Kansas City's youth through soccer. For more information on sponsorship, please contact Bridgette Samuelson, Director of Partnership Development and Operations at bridgette@heartlandsoccer.net.