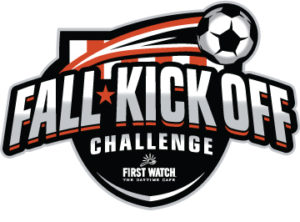 First Watch Celebrates First Year in Partnership with the Heartland Soccer Association as Title Sponsor of the Fall Kick Off Challenge
Overland Park, KS (August 3, 2020) – Heartland Soccer Association, a nonprofit organization, is excited to announce that First Watch has come on-board as the title sponsor of the Fall Kick Off Challenge. Heartland Soccer Association is the region's largest youth soccer league with 21,000 players ranging from ages 9 – 19 participating each season for league play. Heartland also hosts multiple tournaments each year, attracting over 3,000 teams annually from multiple states. The sold-out Fall Kick Off Challenge Sponsored by First Watch will be held August 21-23rd, 2020 at the SCHEELS Overland Park Soccer Complex and the GARMIN Olathe Soccer Complex and is set to host 250 teams.
This far-reaching partnership with First Watch is part of an ongoing commitment to elevate youth soccer as a vehicle for developing well-rounded children both on-and-off the field. "We're thrilled to welcome First Watch to the Heartland Soccer family as the title sponsor of the Fall Kick Off Challenge. Their partnership is vital to our long-term goals of delivering a unique soccer experience to our all of our members."
"The people of Kansas City are like family to First Watch. We've been here for decades and appreciate the support the community has shown us. We are thrilled to be a part of this community through wonderful organizations like Heartland Soccer," said Dave Ernst, Regional Vice President – Kansas/Missouri.
About First Watch
First Watch is a high-growth daytime restaurant concept serving made-to-order breakfast, brunch and lunch using fresh ingredients. A recipient of more than 300 local "Best Breakfast" and "Best Brunch" accolades, First Watch offers traditional favorites, such as pancakes, omelets, sandwiches and salads, alongside specialty items like Quinoa Power Bowls, Avocado Toast and the Chickichanga. First Watch was recognized as Nation's Restaurant News' top Consumer Pick in the breakfast category as well as the coffee category for its Project Sunrise coffee program in 2019. It was also named one of TripAdvisor's Best Restaurant Chains for 2019 and one of Business Intelligence Group's Best Places to Work in 2018. There are more than 365 First Watch restaurants in 29 states, and the restaurant concept is majority owned by Advent International, one of the world's largest private-equity firms. For more information, visit firstwatch.com.
About Heartland Soccer Association
Heartland Soccer Association is the region's largest youth soccer league with approximately 1,500 league teams, 3,000 tournament teams, 72,000 players, 4,000 coaches and 2,000 referees participating annually. Heartland Soccer Association was formed in 1977 as the Johnson County Soccer League and has grown from an initial 600 players to its current size. Today Heartland Soccer Association is a nonprofit and educational youth soccer association. Although the base for Heartland Soccer is still in Johnson County, it now draws teams to play in the league from throughout the metro area. The Heartland tournaments draw teams from as many as a dozen states every year. For more information, visit heartlandsoccer.net.