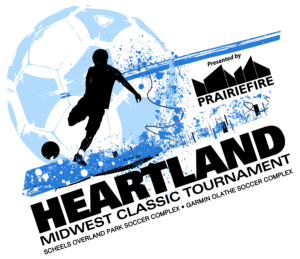 Prairiefire Celebrates Fourth Year in Partnership with the Heartland Soccer Association as Title Sponsor of the Heartland Midwest Classic
OVERLAND PARK/OLATHE, Kan. – Heartland Soccer Association, America's largest tournament and league host, is excited to announce the extension of its long standing partnership with Prairiefire as the title sponsor of the Heartland Midwest Classic.
The sold-out Heartland Midwest Classic Sponsored Prairiefire will be held Labor Day Weekend September 3-5, 2021 at the SCHEELS Overland Park Soccer Complex and the GARMIN Olathe Soccer Complex and is set to host over 200 teams. With teams traveling in from all over the Kansas City metropolitan area and various states, the economic impact is estimated to be $2.7 million over the weekend (event estimations provided by Visit KC).
"We are very excited to partner with such a successful and well-respected youth sports association. Heartland Soccer has an impressive history of hosting best-in-class soccer tournaments that showcase Overland Park and our greater KC Metro. We are proud to be a part of Heartland's mission to continue developing the Kansas City soccer community and look forward to supporting Heartland Soccer on and off the field," said Terri M. Thompson, Executive Director of The MAP + KC Urban Advantage.
"We are excited to extend our partnership with Prairiefire. We have been partners since 2016 and they have been our tournament title sponsor for the Heartland Midwest Classic since 2018," said Shane Hackett, Heartland Soccer Association executive director. "Prairiefire is located in the heart of Overland Park and has incredible restaurants, shopping, events and an engaging museum our coaches, teams and their families can visit."
About Prairiefire
Dine, Shop, & Play at Prairiefire!
Catch a cutting edge Natural History Exhibition at the Museum of Prairiefire. Stroll through a wetlands park. Take in a movie or bowl with friends and family. An engaging place to shop, dine and be entertained, Prairiefire evokes a special bond and weaves the very fabric that brings us together. Explore Prairiefire and Discover a World Within. visitprairiefire.com and visitthemap.org
About Heartland Soccer Association
Heartland Soccer is the largest youth soccer league in the country with more than 1,350 league teams per season, 30,000 league youth players, 2,700 tournament teams each year, 44,000 tournament players each year, 4,000 coaches and over 3,000 active referees. Heartland Soccer Association was formed in 1977 and has grown from an initial 600 players to serving teams from 16 states and internationally with league and tournaments. For more information, visit http://www.heartlandsoccer.net/.
Heartland Soccer has several opportunities for league and tournament sponsorship. Heartland partners with like-minded businesses who understand that investing in young people today creates a better community for all in the future. Partners are important team members in creating an increasingly growing soccer family in our community. Sponsorship provides businesses with increased brand visibility while making a direct impact on developing Kansas City's youth through soccer. For more information on sponsorship, please contact Bridgette Samuelson, Director of Partnership Development and Operations at bridgette@heartlandsoccer.net.