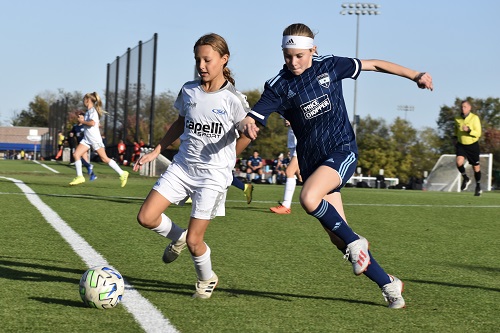 Success. Recover. Repeat. Overland Park has been serving notice that as a destination, Kansas is back in the game, and back in a big way.
Following the earthshattering economic impact of the US Youth Soccer National Championship in 2019 and a promising start to 2020, the fields fell silent – but only for a short time. By July of 2020, when many events were still being held virtually, the city had already contracted for another major tournament, and this past month, hosted a different sellout event.
So how did they do it? By being proactive. During the silent summer, Visit Overland Park was anything BUT silent. And as a result, shortly after the fourth of July of 2020, the organization was selected to host more than 200 youth soccer teams in July 2021 for the first-ever Elite One Cup National Championship.
According to KSHB, Visit Overland Park President and CEO Dana Markel led the effort in its winning bid, which beat out more than 30 other facilities nationwide.
"The beauty of planning this event is that it's in 2021, so we were able to look past all this craziness that's happening now and our plans, of course, are to be open for business and welcome thousands of visitors here next year," Markel told the news station at the time.
According to reports, most competitions at the soccer complex take place over one weekend, but Elite One Cup National Championship will be a longer event with Division I playing on July 13-18, and Division II taking the field July 21-26.
"It gives the players the opportunity to only play one game a day, but then they get to go out and experience what Overland Park and the Kansas City metro has to offer," Mike Laplante, manager of operations at the Scheels Overland Park Soccer Complex, told the news crews.
And that will add up to some nice impact – an estimated $8 million dollars in revenue for the Kansas City economy.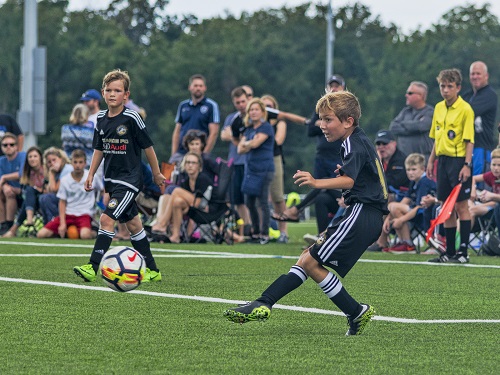 Some of the players are expected to make housing reservations at the Marriott Kansas City Overland Park, which has a block of 150 rooms for the tournament.
"Especially now during COVID, hotels have taken such a huge hit," Lori Haskell, the hotel's director of sales and marketing, said. "With different things going on, everybody's canceling, so to have something like this happen, it's like a light at the end of the tunnel."
But even in July of 2020, the area was hardly done with its setting the stage for its comeback; in fact, it was ready to prove to the world it had left the sidelines and headed into competition. The Heartland Soccer Tournament Series, run by the Heartland Soccer Association, announced a new pre-season soccer tournament, played from July 31- August 2 at GARMIN Olathe Soccer Complex. The inaugural Heartland Fall Friendlies, as they were known, proved to be a perfect opportunity for teams who had been sitting out for far too long. That event was closely followed by the Inaugural Heartland Open Cup, played August 7-9, the weekend before the start of the fall soccer season. League play began on August 14.
In February, when some states were allowing students to tiptoe back onto the field, Kansas hit the spotlight again, kick-starting spring league play. Heartland welcomes over 170 clubs per year to play on the area's two facilities annually. In fact, Heartland is the largest youth soccer league nationwide, with more than 1,500 league teams per season, 30,000 league youth players, 2,700 tournament teams each year, 44,000 tournament players each year, 4,000 coaches and 2,000 active referees. In addition to being played at theScheels Overland Park Soccer Complex and the GARMIN Olathe Soccer Complex, soccer tournaments spread out to Compass Minerals Sporting Fields and Swope Soccer Village.
It was in late February, however, that it was clear the destination had kicked COVID to the curb. Heartland Soccer partnered with GSI Sports to host the annual Border Battle Tournament at both the Scheels Overland Park Soccer Complex and GARMIN Olathe Soccer Complex.
This tournament, with a reputation as one of the top spring soccer events in the Midwest, annually attracts ECNL, NPL, State and Regional Champion teams from up to 14 different states. And 2021 was no exception; the tournament welcomed a record-breaking 235 teams (an impressive, but not surprising, increase of 100 teams from 2019) from eight different states including Arkansas, Illinois, Iowa, Kansas, Missouri, Nebraska, Oklahoma and South Dakota.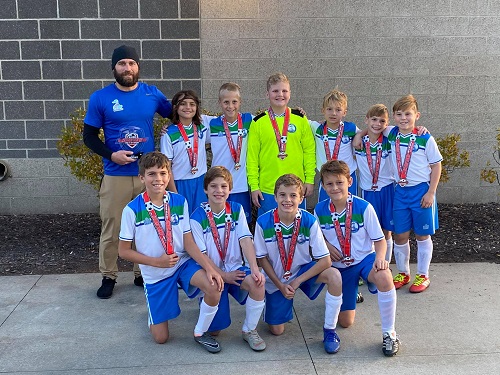 "We are continuing to experience significant growth in our regional tournaments as teams travel from across the Midwest to visit our world-class facilities and compete on the fields," noted Shane Hackett, Heartland Soccer Association executive director.
That event was followed by the Midwest College Showcase on March 5-7, hosting a number of college coaches and top players throughout the Midwest and the KC Champions Cup Tournament, set for April 16-18, which is expected to bring in more than 350 teams.
And the area isn't finished yet. Not by a long shot. According to local news station WICZ, Heartland Soccer hosts, on average, a little over two dozen tournaments annually. Heartland tournaments draw more than 2,700 teams and 44,000 youth players, from over 16 states including Texas, Minnesota, Louisiana, Oklahoma, Nebraska, Iowa, South Dakota, Wisconsin, Colorado and Illinois as well as Canada.
And there's always the Elite One Cup National Championship in July. Its estimated economic impact is around $8 million.
And yes, Overland Park will be ready. After all, the late-July 2019 US Youth Soccer National Championship which brought more than 2,600 people to the area and an estimated $7 million economic impact.
"There's a lot of pride that comes in being selected as a host city, especially when you're competing with other cities across the country," Markel said. "It's the result of a vision that our city leaders had years ago when we developed the championship soccer fields."